What's holding you back from a rich spiritual life?
For me for the longest time it was years spent in a religious tradition that valued rules and regulations over relationship. While I developed strong relationships with other Christian brothers and sisters, many of whom are still some of my closest friends, my relationship with God suffered.
When I was 16, I knew there was something more that I was missing. I wondered aloud to my sister in the car one day, "Why have we been taught all these things about God but no one has ever taught us how to know Him?"
Years later I'm just now discovering the freedom Christ offers us as believers.
God woke me up this morning with the lyrics to the song Make Me More Free playing over and over in my mind. Maybe I needed a reminder!
(click the play button to listen)
Help me to see, free me

To see You and know You

To know I am known

Help me to see You, see me

And know I am Yours alone

With wings like an eagle, my heart made to fly

Over sin, over sorrow, to new realms of life

From glory to glory, my gaze fixed so high

That I only see Jesus, the love of my life
My heart is no longer held back by a narrow interpretation of the body of Christ and instead I've started building stronger relationships with other Christians and with God, my creator, sustainer, friend, and provider. It's a beautiful thing, freedom.
So what's holding you back in your spiritual walk?
Be encouraged today. Christ came to set you free. God promises to provide and loves you as His child. Break free and FLY!
This post is part of the Five Minute Friday weekly link-up. Today's writing prompt was HOLD.
Also, I'm so excited to be co-hosting this week's
Faith and Fellowship Blog Hop
along with Susannah from
Simple Moments Stick
. Take a moment to link up your latest encouraging, faith-building posts. Let's continue to encourage one another on this journey of becoming more like Jesus.
So continue encouraging each other and building each other up, just like you are doing already.
Faith and Fellowship Guidelines
1.  Link up a post (not just the link to your blog) from the week that shares what the Lord's been doing in your life or speaking to you.2.  Put the button on your blog post or blog so that others can hear about this wonderful group of Godly women.
3.  Visit as many blogs as you're able and get to know your sisters in Christ!
4.  Share this blog hop on social media using #faithandfellowship or pin the button on Pinterest.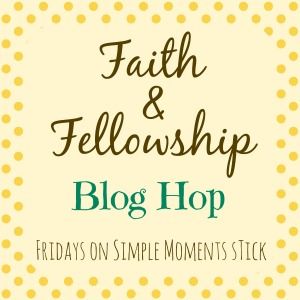 Your Host:
Susannah from
Simple Moments Stick
 If you'd like to cohost in the future, please email Susannah at susannah.kellogg (at) gmail.com
Now it's your turn! Link up your faith-based, encouraging posts here: